A Dream Reimagined: How COVID-19 Inspired A New Path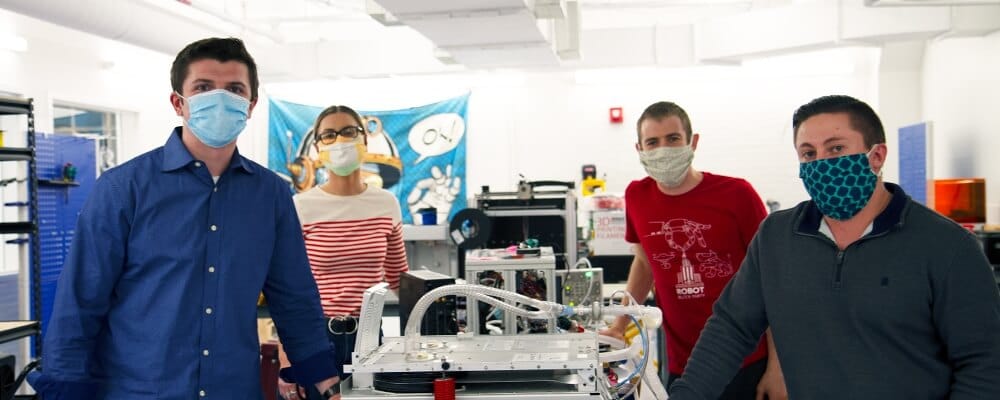 This summer, Nick Anderson '21 is taking on the COVID-19 pandemic.
Anderson is working with Boston-based nonprofit The Ventilator Project to provide more affordable ventilators for medical facilities around the world. Anderson is helping to recruit interns and providing social media management for the new start-up.
"I'm meeting some of the most amazing people I've ever met in my entire life," Anderson said. "And they're all dropping their lives and risking going out to Boston, the third largest hot spot in the nation, and coming together to fight against this."
The Ventilator Project was born out of the COVID-19 crisis, after Boston-based robotics entrepreneurs Tyler Mantel and Alex Frost saw an increasing ventilator shortage impacting patient care in the US and the world. People from organizations including Google, The White House, and even the San Francisco 49ers are part of the nonprofit's efforts. Them and Nichols own Nick Anderson.
But this almost didn't happen.
A college student's dream internship
This summer, Anderson was supposed to intern with New York-based entrepreneur Gary Vaynerchuk.
"It was going to be incredible. I was going to move to New York City, live in Manhattan – live the dream of this mega, mega internship with this guy who's such a success," Anderson said.
Anderson has long admired Vaynerchuk's work, especially his unique approaches to social media and self-promotion. This was his dream internship.
But the COVID-19 pandemic cost Anderson him his once-in-a-lifetime opportunity in New York City.
"It wasn't surprising given the circumstances. But it was still very disappointing, especially combined with the anticipation building up to it for nearly a year," he said.
The situation soon changed for Anderson though, in part thanks to work he had previously done with one of The Ventilator Project's Senior Vice President of Marketing Ryan Hendrickson.
Less than 48 hours after Anderson's New York City internship was canceled, Hendrickson reached out and asked if Anderson wanted to join The Ventilator Project. According to Hendrickson, Anderson fit many traits they were looking for at The Ventilator Project.
Hendrickson said of Anderson, "I saw that he not only has a passion for nonprofit work, but a creative skillset in getting the people around him to share that passion.
"I knew having him on the team would add a powerful asset to our outreach and fundraising efforts," Hendrickson said.
Anderson visited The Ventilator Project's office in the back bay of Boston and shortly after knew he wanted to be a part of the team. Now he is the head of both their internship program and social media strategy.
"The first day I joined I said to myself, 'I need to do this, I need to provide this opportunity to students that lost theirs'," he said. "I want to make sure that students don't feel like their internships were lost in vain and create the opportunity for a lot of good."
Anderson's work includes finding interns for many areas of need at The Ventilator Project, including engineering, human resources and marketing.
"I'm going to each team lead and assessing needs for interns – whether they have the bandwidth for an intern," he said.
The Nichols Way
Anderson believes part of his success at The Ventilator Project can be contributed to his experience at Nichols. Since Anderson's freshman year at the College he's been given the support and opportunities to give to the community and the student body.
These opportunities include him creating the first Relay for Life at Nichols College, an annual fundraiser held across the country for the American Cancer Society. Anderson said the Nichols Relay for Life has raised more than $60,000 since he helped bring it to campus his freshman year.
"Nichols taught me how to work in teams, taught me through the experiences I've been able to have at Nichols to bring a different perspective from the typical college student," he said. "I really believe that at Nichols they allow you to thrive in your own right."
Interested in helping?
The Ventilator Project is still looking for help, especially interns who have been impacted by COVID-19.
"We are extremely proud about being able to offer internships in a time where so many companies are needing to pull back their intern offers," co-founder Tyler Mantel said.
Anderson said opportunities are available in areas including marketing and human resources. If you're interested, contact Anderson at n.anderson@theventilatorproject.org and visit theventilatorproject.org. Anderson said students can apply until May 22.
---
About Nichols College
Within a supportive community, Nichols College transforms today's students into tomorrow's leaders through a dynamic, career-focused business and professional education.
Media Contacts
Denise Kelley
Writer/Editor
denise.kelley@nichols.edu
508-213-2219