Nichols College Welcomes Class of 2027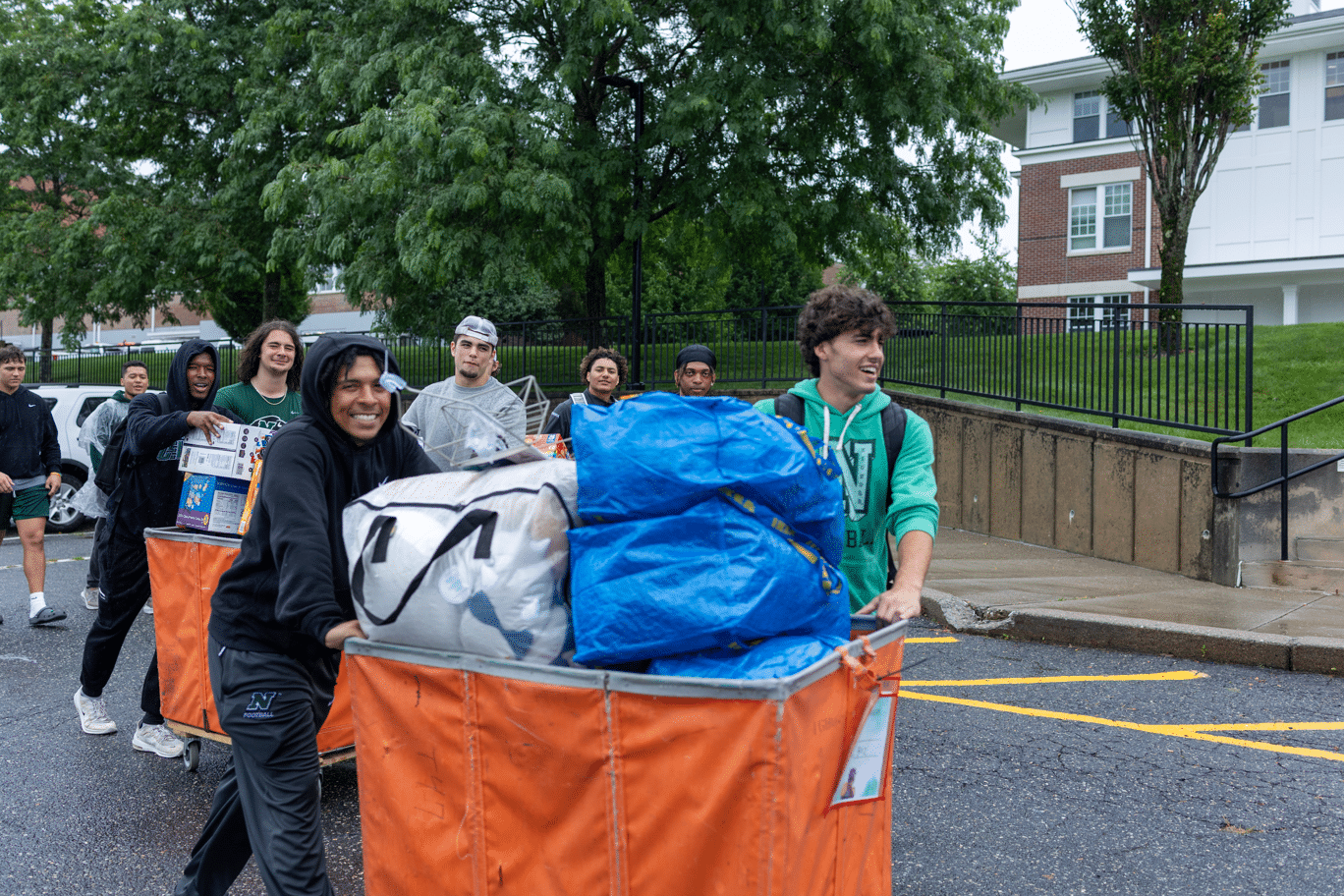 On August 25, Nichols College welcomed nearly 350 incoming students as members of its entering class—a tradition that dates to the institution's founding in 1815. While the earliest Nichols scholars didn't post their arrivals on social media, they share a bond with today's students who similarly sought an institution that offers close faculty-student mentorship and a business education that prepares graduates for careers of purpose, consequence and success.
"The members of this year's incoming class are outstanding and the data reflect our enthusiasm," said President Glenn M. Sulmasy, JD, LL.M. "They're class officers, athletes, poets, volunteers, entrepreneurs and leaders who stood out among a very strong pool of candidates. They also enrolled in our 4+1 program at rates never seen at Nichols. These students will earn a bachelor's degree and a master's degree in five years—a commitment that reflects their ambition and will quickly pay dividends as they launch their professional careers."
The Class of 2027 is the largest class since 2016 and boasts the highest grade point average (GPA) ever. First-year students hail from 22 states and seven different countries, including Canada, Germany, Slovakia, Sweden, Ukraine, the United Kingdom and the United States. More students qualified for, and enrolled in, the Honors Program than any class in history, and this is the second largest class of women. An additional 50 students will join Nichols as transfers.
The College will welcome new students with a variety of events throughout the weekend, including requisite residence life, professional development and health and wellness sessions; a Farewell Fair for first years and their departing family and friends; Camp Nichols replete with outdoor movie, fire pits and lawn games; and the President's Welcome Dinner at the 1841 House, before culminating with the Campus Carnival and Involvement Fair on Sunday afternoon. The Bison Shuttle will offer rides to local stores to purchase last-minute (or forgotten) items.
Fall semester classes begin on Monday, August 28.
About Nichols College
Nichols College has earned business accreditation from the prestigious Association of Advance Collegiate Schools of Business (AACSB International), the longest serving global accrediting body for business schools and the largest business education network connecting learners, educators, and businesses worldwide. Founded in 1815, Nichols College transforms today's students into tomorrow's leaders through a dynamic, career-focused business and professional education. Nichols offers real-world learning focused on professional depth—combined with vibrant living, competitive athletics, and an unmatched alumni advantage—equipping students to exceed their own expectations. www.nichols.edu
Media Contacts
Denise Kelley
Writer/Editor
denise.kelley@nichols.edu
508-213-2219