Nichols graduates hear from Josh Kraft, President of New England Patriots Charitable Foundation, at commencement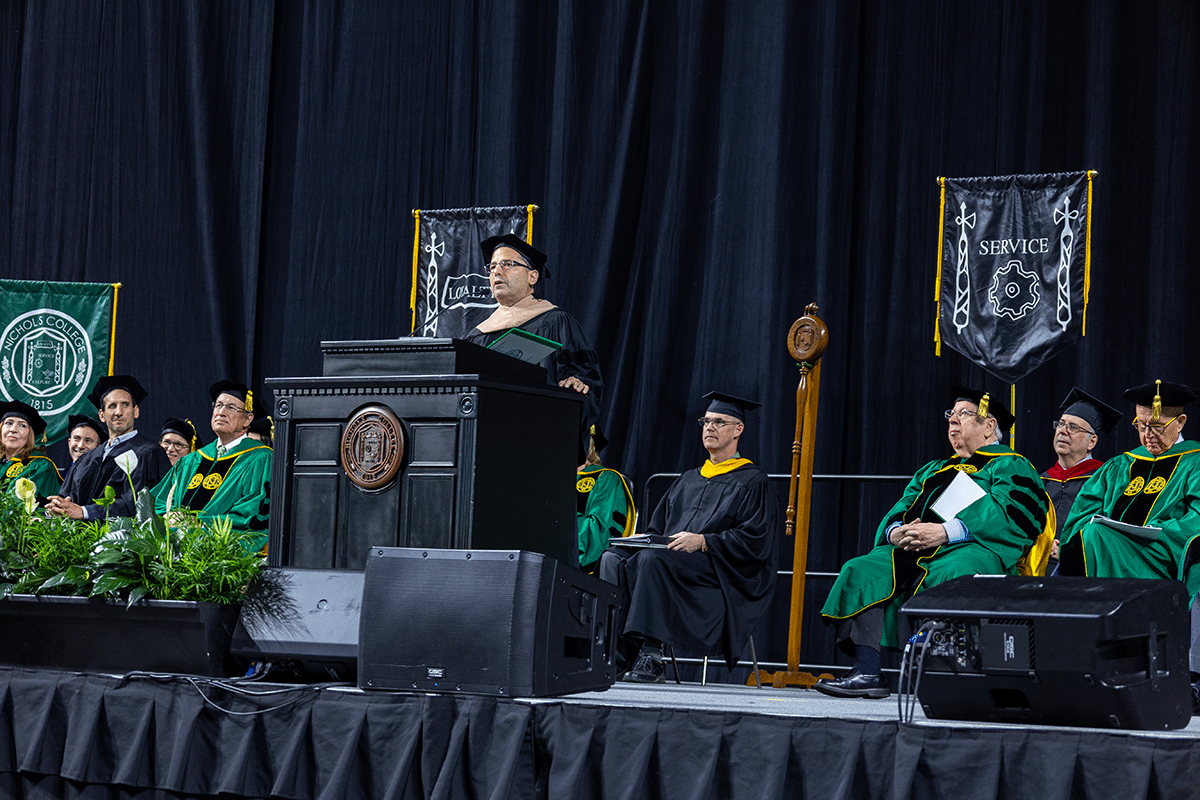 DUDLEY, Mass. – Josh Kraft, President of the New England Patriots Charitable Foundation and lifelong advocate and supporter of youth, families and communities, delivered the Commencement address during the Nichols College Undergraduate Commencement Ceremony on May 6, 2023. Nearly 300 students participated in the graduation ceremony held at the DCU Center in Worcester, Mass, where Kraft was also bestowed a degree, an Honorary Doctorate in Humane Letters, as was Steve Belkin, founder and chair of the Trans National Group.
As President, Kraft is responsible for the Kraft family's many philanthropic initiatives. Through these programs, the Kraft family annually contributes tens of millions of dollars in support of education, health, social justice, diversity, youth development and family initiatives. Historically, the family has donated hundreds of millions of dollars to their communities. Prior to his full-time commitment as the President of New England Patriots Charitable Foundation, Kraft spent 30 years with the Boys & Girls Clubs of Boston (BGCB), including 12 as the Nicholas President and CEO.
At a time when compassion can seem forgotten, given the vitriol in political discourse that is being fanned or even led by U.S. lawmakers, said Kraft, "I can tell you where there's a lot of compassion—right here with all of you and Nichols. I saw it in the community work you all do," referring to Nichols initiatives at the Dudley Boys and Girls Club, the Backpack Brigade, Relay for Life, and others. "You all get it; you get that compassion is about action and that it's also community building—[compassion] brings folks together," said Kraft, discussing several examples of compassion in action spanning education, mental health, and scholarship.
Kraft spoke to graduates about the importance of leading a more fulfilled life. "The most powerful question … is 'How can I help?' It signals a willingness to help but also signals respect, humility, and the likelihood that in the end, it is you that will be helped just as much as the person you're helping."
"So as you all prepare to take the next steps in your lives, make the world a better place by reconnecting all of us with our compassion. Never be afraid to ask 'how can I help,' and never be afraid to show your unity with all of humanity—and that will be your true measure of success. Because when you do it, you'll change the world. Not just for yourself, but for all generations for years to come," advised Kraft.
In his remarks to the graduates, Nichols College President Glenn M. Sulmasy, JD, LL.M said, "Loyalty, Service, Culture—you've led your time here according to these words," referring to the words emblazoned on the college seal. "And now today imbued with the best possible characteristics for leading organizations, you will go forward into the world and I can't wait to see where it leads for each and every one of you."
He also noted the graduates have several more factors in their favor—the real-world applicability of their studies at Nichols as well as the College's recent AACSB accreditation and newly adopted Strategic Plan, titled "Embracing Greatness." Combined, this places "even more value and support from your degree for your future endeavors… Our successes lift all of us and you're going to find more ways to appreciate your Nichols degree on your path to even greater achievements in the future," said Sulmasy.
Class of '23 President and speaker, Jenna DeLorenzo, remarked, "I know each of us has our own story, but we have shared some of the most important chapters right here together…. No book becomes a bestseller without the help of an engaged and supportive editor. In our case, it was definitely an editorial team, the faculty and staff of Nichols college for me and I'm betting for most of you."
"As we're drafting the next chapter of our lives, I hope that you revisit these chapters with laughter and smile. We will move mountains and write many more chapters filled with greatness."
Madison Perrotti '23, Student Government President and speaker, said that while studying abroad in London, she became accustomed to the term 'mind the gap' used by the Underground metro system to urge travelers to note the gap between the platform and the train threshold while boarding.
"Before we jump on the next connection, I ask my classmates to mind the gap. Take a moment to reflect on how significant this singular journey has been," said Perrotti. "There may be additional challenging moments in your future travels, but be confident that your time at Nichols has given you the foundation … you may need to stay safely on track."
"I urge you to mind life's gaps, and that every chance you can, embrace greatness."
For more information on the event or to watch the entire event unfold, check out our YouTube video: https://www.youtube.com/watch?v=niyOVLX1jzM
About Nichols College
Nichols College has earned business accreditation from the prestigious Association of Advance Collegiate Schools of Business (AACSB International), the longest serving global accrediting body for business schools and the largest business education network connecting learners, educators, and businesses worldwide. Founded in 1815, Nichols College transforms today's students into tomorrow's leaders through a dynamic, career-focused business and professional education. Nichols offers real-world learning focused on professional depth – combined with vibrant living, competitive athletics, and an unmatched alumni advantage – equipping students to exceed their own expectations. www.nichols.edu
Media Contacts
Denise Kelley
Writer/Editor
denise.kelley@nichols.edu
508-213-2219