Mike Grey
Mr. Grey joined Sodexo in 1991. He supports school district operations in the Northeastern United States.  He has held positions such as Food Service Manager, Area Manager, Safety Coordinator, Food Service Director, General Manager, Area General Manager, Training Manager and District Manager.
In his role as Regional Vice President, Mike has managed operations for Sodexo School Services operations in New England, New York State, New Jersey, Pennsylvania, Michigan, Indiana, Ohio and Washington D.C.  Mike has a passion for healthy diets for children and diversity and inclusion initiatives in the workplace.
Mike was a co-chair on the Criminal Justice Reform subcommittees for both youths and adults in 2019.   The subcommittee convened a constituent from all across the state of Rhode Island to create recommendations designed to improve outcomes for justice involved citizens in the state.  The final report and recommendations were presented to Governor Raimondo to be included in the 2021 fiscal year budget.
Mike was appointed Chairman of the Governor's Workforce Board for Rhode Island by Governor Raimondo in 2016 with the instruction to convene the entire state workforce development resources under a single entity to maximize investment and outcomes.  In that role, Mike also became an ex-officio member of the RI Board of Education for Elementary & Secondary Education and Post-Secondary Education.
In 2015 Mike was appointed to the Board of Trustees by Governor Gina Raimondo to the Career and Technical Education Board of Trustees.  The board is tasked with improving technical education standards and outcomes for students across Rhode Island.
Mike received his bachelor's degree from the University of Massachusetts at Amherst.  His professional affiliation is with the School Nutrition Association (SNA), and is he active in community support.  Mike resides in Rhode Island with his wife and two children.
Education
Bachelor of Science, University of Massachusetts, Amherst
Master of Business Administration, Nichols College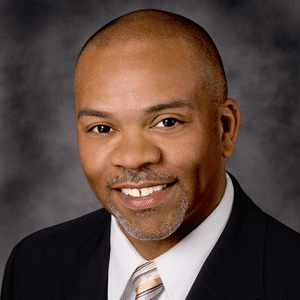 Mike Grey
Graduate Faculty
Regional Vice President, Sodexo