U.S. foreign policy experts in panel hosted by Nichols College debate diverse viewpoints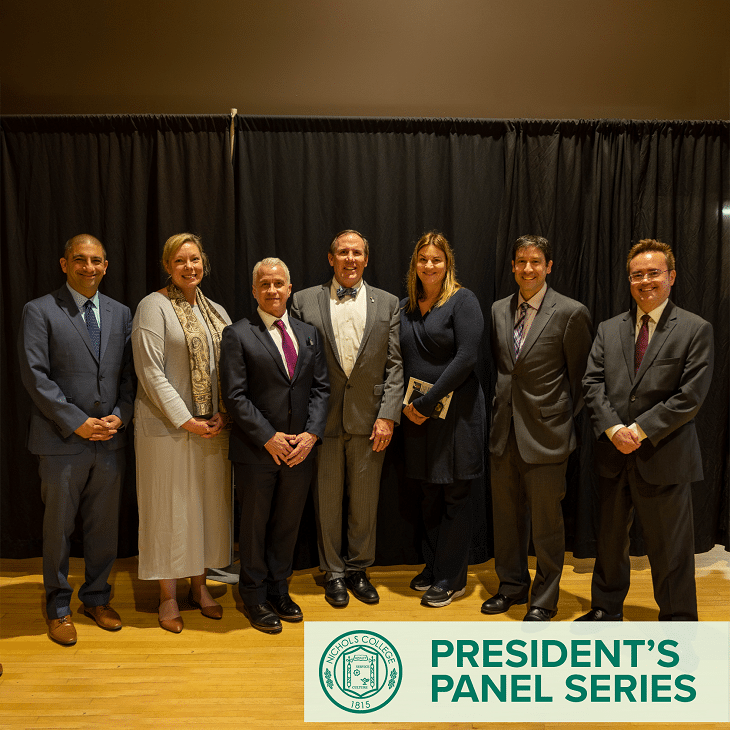 DUDLEY, Mass. – Nichols College hosted a thought-provoking discussion on U.S. foreign policy on Thursday, April 6, 2023 as the second installment of the President's Panel Series, a forum dedicated to addressing issues of national importance while elevating public discourse through lively, respectful and spirited debate.
Presented by Nichols College President Glenn M. Sulmasy, JD, LL.M, the event, entitled "U.S. Foreign Policy and 21st Century Challenges," convened a panel of recognized experts in foreign policy with decidedly different views.
The event drew nearly 100 attendees to the historic Daniels Auditorium on the Nichols College campus in central Massachusetts.
"Nichols College is committed to intellectual diversity, encouraging responsible citizenship and providing a forum for respectful debate. Our students benefited immensely by engaging with leading experts in foreign policy who have experienced first-hand the challenges of 21st century policymaking in our society. Our guests elevated the importance of this initiative by joining us, and we're grateful for their support," said President Sulmasy.
Dr. Daniel Borgia, Nichols College Provost, moderated the panel discussion. Panelists included Jamil Jaffer, JD, Founder and Executive Director of the National Security Institute; Dr. Nile Gardiner, Director of the Margaret Thatcher Center for Freedom and Bernard and Barbara Lomas Fellow at the Heritage Foundation; Dr. Caitlin Carenen, History Department Assistant Chair at Eastern Connecticut State University; and Dr. Michael E. Neagle, History Program Chair at Nichols College.
The panel discussion focused quickly on the tyrannical regimes of Russia and China. The war in Ukraine and U.S. withdrawal from Afghanistan generated healthy debate and opposing views, and consensus converged on the idea that the U.S. must maintain its position world leader. The evening closed with questions from the audience, many of whom were Nichols students poised to launch their careers.
The discussion was well-received by students and alumni in the audience.
"It was a good overall discussion. I think that there were equal parts, or equal opinions, brought up on both sides of each question, which is always important," Nick Gerwien '23, a General Business major with concentrations Management, Real Estate, and Finance.
He also enjoyed having the opportunity to meet the panelists during post-panel socializing portion of the event. "That's equally as important; the students gained not only networking opportunities, but we also could get the panelists' full opinion on the issues."
Nicholas Lavrenchuk '23, a Business Analytics and Intelligent Automation double major and Intelligent Process Automation Analyst in the Nichols College CIPA Center, also enjoyed the panel. "There was a wide range of people that had a lot of different opposing views. … [It] allowed everyone to really think about the critical aspects of each concept behind the topics."
Alum and Nichols College Board of Trustees member Amahl Williams '02 commented that he felt the panel and views expressed to be "very balanced," which is important "because you have people of all different ages and backgrounds, consuming information in real time."
"It's about, so how do you how do you debate in public, responsibly? The panel showed how to have civil discourse around complex topics," said Williams.
(Pictured, from left to right: Jamil Jaffer, JD; Dr. Caitlin Carenen; Dr. Daniel Borgia; President Glenn M. Sulmasy, JD, LL.M; First Lady Marla Sulmasy; Dr. Michael E. Neagle; Dr. Nile Gardiner.)
About Nichols College
Nichols College has earned business accreditation from the prestigious Association of Advance Collegiate Schools of Business (AACSB International), the longest serving global accrediting body for business schools and the largest business education network connecting learners, educators, and businesses worldwide. Founded in 1815, Nichols College transforms today's students into tomorrow's leaders through a dynamic, career-focused business and professional education. Nichols offers real-world learning focused on professional depth – combined with vibrant living, competitive athletics, and an unmatched alumni advantage – equipping students to exceed their own expectations. www.nichols.edu
Media Contacts
Denise Kelley
Writer/Editor
denise.kelley@nichols.edu
508-213-2219