Graduate & Professional Studies
Our programs were built with feedback from business and professional leaders across a variety of industries to ensure that every Nichols graduate has a mastery of the skills today's market demands.
---
Hyflex
All the convenience of online learning with the benefits of a real time classroom experience. Our campus is wired with cameras and microphones, so you can use standard video conferencing software to participate in learning and collaborating. See and hear your professors and your classmates, and they'll see and hear you too.
"As a single, working mom with a very busy job, the Hyflex program offered me the flexibility to take the class while at home if there's bad weather or my child is sick without missing a beat."

Amber Martin
Every week you can choose whether you want to come to campus or use HyFlex to attend class. We use an intuitive app for your assignments, resources, forums, and grades so you'll always know where you are and what you need to do for class. All our reading is online as well, so you'll never have to worry about paying for textbooks!
---
Student Success
Our dedicated student success coaches will help you define your goals and plan your education. Once you've worked out the perfect schedule with your coach, we'll automatically enroll you in each successive course so you never have to worry about the paperwork again. You'll know exactly what you're taking and when at the very start of your journey, making it easy stick to the plan and earn your degree. And if you ever need to make a change, our coaches are here every step along the way to make sure you get the most from your time with us.
---
+1 Programs
Undergraduate students who know they're going to need a master's degree to advance their career are eligible to take select graduate courses during their senior year. That way you can earn your master's with just one additional year of school and come out with a major competitive edge in the job market. All Nichols students are eligible, as are students from our Partner Schools.
The cost is just $23,500 for current Nichols College undergraduate students looking to continue their education uninterrupted.
If you're interested in the +1 program, please reach out to Chelsea Saucier for more information at 508-213-2443 or chelsea.saucier@nichols.edu.
---
Dual Degree
In an increasingly competitive job market, you might be considering a second master's for a little extra edge. Here at Nichols, all our graduate credits are stackable. That means that if you've taken a class with us, you've taken it. We'll count your Business Communications credits toward your graduation total for every degree. If you've earned an MBA, an MSOL is just 4 classes away!
---
Military & Veterans
The Nichols College Office of Veteran & Military Services is here to help strengthen our active duty, veteran, and military families with dedicated support and resources. Whether you're looking to advance your education while serving or are transitioning to civilian life, we're here and we understand. We also offer generous discounts, which you can learn more about on our Military page.
---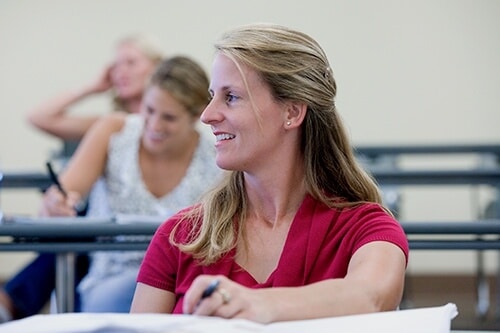 Discounts
Many of our students and community members qualify for special discounted pricing. All alumni receive 10% off tuition, as do senior citizens, and members of our local Chamber of Commerce. First responders, including Police and EMTs, qualify for a full 40% discount. All active duty, reserve, and veteran military service professionals receive special pricing, which you can learn more about on our Military page.
---
Application
Applying is fast, easy, and free. We don't require any entrance exam scores. And you don't need to have everything ready at once, so go ahead and Apply Today to get the ball rolling and we'll reach out to help you through the entire process.
Eventually you'll need:
* Waived for Nichols College graduates
---
Mentoring
Mentoring is a great way to discover and cultivate new talent, and we actively work to match students with local business leaders who share their goals and passions. As a student, you'll have the opportunity to choose a mentor who can help you discover more about how your strengths as a person can become your success in business. If you're a professional interested in giving back and getting involved, email us today to learn more about mentoring opportunities.
---
Alumni
Our graduates form a deep network of meaningful relationships and resources. Take advantage of our Career & Professional Development Center, or stay connected through alumni receptions and career building events. Get in touch with our Alumni Office to learn more about the many opportunities for collaboration and networking you'll have as a Nichols graduate.